Mayor Joe Hogsett, EmployIndy kick off third year of Project Indy, city's youth jobs program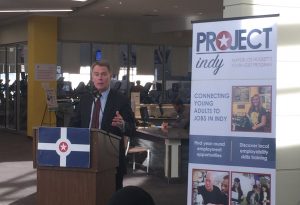 INDIANAPOLIS – For the third year, Mayor Joe Hogsett is working with EmployIndy, the Greater Indianapolis Progress Committee, and the Marion County Coalition on Youth to connect thousands of young adults to job opportunities in 2018. At a press event held at the Avondale Meadows YMCA, Mayor Hogsett and the Indy Chamber encouraged employers to engage with the program and announced a new employability skills system designed to get 16-24 year-olds job ready.
Project Indy is a smart way to give thousands of local young people job experience, useful skills, and safe and productive alternative to crime and gangs. Mayor Hogsett's summer jobs program comes at no additional cost to taxpayers, funded through federal grants, corporate donations, and community organizations.
To ensure that young adults are ready for job opportunities, EmployIndy and the Indy Chamber have partnered to create the Job Ready Indy program. Beginning in March, local youth can enroll in Job Ready Indy workshops with various partner organizations around the city and earn up to six badges, each focused on various skill sets that will set them up for success in a job and appear on their Project Indy profiles.
"Project Indy aims to uplift our entire community, and to do so, we must involve the entire community," said Mayor Joe Hogsett. "Just as it takes a village to raise a child, it will take a city to develop our workforce. With an emphasis on work experience and skill development, young adults, community leaders, and employers can all play a part in this effort — and the first step is as simple as signing up!"
While Project Indy works to connect high school youth with summer job opportunities, the program also encourages mentorship and career training opportunities as well as jobs for participants out of school seeking the first step in their career path. With the added skills and training now available through Job Ready Indy, Project Indy will enable local young people to build the foundation for a successful career in the Indianapolis workforce.
"We look at the job continuum as A-B-C: Any job, Better job, Career," said Angela Carr Klitzsch, president and CEO of EmployIndy. "A young person's first experience in the workforce allows for career exploration, skill building, and self-awareness that can help guide them throughout their professional life."
Project Indy is uniquely positioned to connect the supply of jobs with local young talent as employers are thinking about their needs for this summer and beyond. Local youth can be a solution for many of these employers seeking talent, and with the added employability skills offered through the Job Ready Indy courses, workers accessible through Project Indy will be better prepared to take on jobs that require a variety of responsibilities. Employers who participate in Project Indy also have the exclusive opportunity to kick start career paths and develop our city's future workforce to fit their industry's needs.
"Some employers express concern about the basic skills of entry-level workers," said Michael Huber, President and CEO of the Indy Chamber. "This badging system will not only afford peace of mind for an employer, but build a strong foundation of talent for Indianapolis as we focus our efforts on inclusive growth to meet local labor needs."
Each Sunday in February, Mayor Hogsett will be engaging local churches and faith-based organizations to encourage young people and employers to take advantage of all that Project Indy has to offer. Attendees of Congressman André Carson's Your Opportunities Job Fair in March can stop by the Project Indy booth to learn more about the program.
Young job-seekers and employers can learn more and sign up at projectindy.net.
---