Mayor Hogsett Proclamation Recognizes 2nd Full Week Of November as Apprenticeship Week
Apprenticeship Week in Indianapolis celebrates apprenticeship programs in conjunction with National Apprenticeship Week organized by the U.S. Department of Labor
INDIANAPOLIS – 19 November 2021 – Today, Major Joe Hogsett highlighted the second full week in November as "Apprenticeship Week" in Indianapolis. This week-long celebration, occurring annually and in conjunction with the U.S. Department of Labor's National Apprenticeship Week, will be lifted up by stakeholders who strive to promote both registered and youth apprenticeships throughout Central Indiana.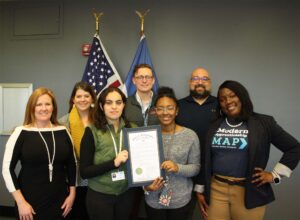 In particular, youth apprenticeships prepare students for their future by providing them with in-demand skills and relevant job experience so they can thrive in a fast-changing job market. These apprenticeships throughout Central Indiana have provided a model of success for introducing our future workforce to expanded career pathways.  High school students who complete Modern Apprenticeship, a youth apprenticeship program, have the opportunity to participate in hands-on work experience that complements their traditional coursework, in growing fields such as business, advanced manufacturing, healthcare and information technology (IT). Afterward, they can continue on to a college degree or jump right into the workforce. As the cost of college continues to rise, youth apprenticeships also offer a rare opportunity to get paid to learn while reducing student debt. "At such a time of transformation at every level of the economy, it is critical that Indianapolis youth have numerous and varied routes to finding a career," said Indianapolis Mayor Joe Hogsett. "Through programs like Modern Apprenticeship, we are creating pathways to good-paying jobs that go beyond traditional 2- or 4-year degrees. By recognizing Apprenticeship Week, we are highlighting those efforts while pledging further strides towards equity and opportunity." As job candidates need more skill-based, hands-on training to thrive in 21st century jobs, youth apprenticeships also give Central Indiana employers a new way to build next-generation talent pipelines as well as create a viable option for advancing commitments to increasing racial and ethnic diversity.
Partner organizations and apprenticeship stakeholders throughout Central Indiana can celebrate Apprenticeship Week by accessing our media toolkit.
About Modern Apprenticeship Modern Apprenticeship was launched in 2020 by EmployIndy and Ascend Indiana for Indianapolis high school students to prepare them for the future in high-demand industries. This program is a three-year work-based learning experience with local employers, where students will emerge with a high school diploma, college credits, relevant credentials and professional experience. Learn more at: indymodernapprenticeship.com
About EmployIndyEmployIndy guides the local workforce ecosystem and makes strategic investments to remove barriers to quality employment for underserved and underrepresented residents. Our vision is for all Marion County residents to have access to services and training necessary to secure a livable wage and grow in a career that meets employer demand for talent. As the workforce development board for Marion County, guided by 24 business, civic, education and nonprofit community leaders, EmployIndy invests $20 million in public, private and philanthropic funds for both youth and adults annually. Learn more at employindy.org.
---