Girls in Tech Panel at George Washington High School
Posted on February 21st, 2020 in
Events
Yesterday at George Washington High School 15 students participated in the Girls in Tech panel discussion. The purpose of the event was to expose girls to various roles within the tech industry beyond the more traditionally known. EmployIndy pitched the idea for the panel to George Washington High School and connected the employers to the event.
The panel was moderated by Morgan Walker, Technology Employer Engagement Manager at EmployIndy. The panelists included Arwa Ghalawan, Diversity and Inclusion Representative at Infosys; Mariel McAlister, Talent Acquisition at Sallie Mae; Raquel Dukes, Technical Services Team Lead at SmarterHQ; Anita Donnelly, Director of Support and Onboarding Operations at SmarterHQ; and Vicki Daugherty, Program Manager, Informatics Diversity-Enhanced Workforce (iDEW) and Diversity Coordinator at IU School of Informatics.
Tell us about your career pathway from when you graduated high school to where you are now.
Arwa Ghalawan: I graduated in 2018 from ITCC in software development. Finished an internship to learn more about what I wanted to do, and my advice for you is connect, connect, connect. Now I work in diversity and inclusion with Infosys. I help our global employees learn about and feel connected to the community of Indianapolis.
Anita Donnelly: I didn't go through the same schooling the others did, but I get to work with the developers and teams. I just took a little different way to get there.
Mariel McAlister: I started out doing fashion websites, and things like that, so I took a class and found out that I do not like programming at all. It wasn't until I did my first internship experience that I realized how much I loved HR and I did that at a small tech startup. At another tech company, I did recruitment and employee experience. I find I get to use a lot of technology and design in my roles. 
Raquel Dukes: I went to a pre-engineering program in the summer and found I did not want to do engineering, so I tried math, but did not want to do that either. Computer information systems on the business side with marketing seemed to be the thing for me. I did find I was good at programming, but I like being with people too. My first job was in consulting which I enjoyed, but also learned about myself and where I wanted to be in programming. 
Vicki Daugherty: Before the advent of the printing press, we did not have books and people did not need to read. For you, consider code as the next printing press. Get enough of it so wherever you go in a career so you understand computer language.
What is your favorite part of the tech industry?
Raquel: Every day is different, every client is different, and an opportunity to use different strategies for problem solving. 
Mariel: If I do the same thing every day, I get bored. In the tech industry you are thrown different things every day, and I find that exciting. 
Morgan Walker: I get to work with a ton of amazing companies, and I love the innovation that is happening across these companies. Learning how they come up with the ideas, and put them into action. The individuals I meet are lifelong learners to keep up with the industry. Wherever my career takes me, I want to stay in this industry.
Vicki: I work with a lot of students, and what I find exciting is we are teaching students things that don't even exist yet from disease cures to the next entertainment innovation. Because I work with companies as well, I know how desperately they need women and diversity overall. If the same people are designing products all the time the products would be all the same.
Arwa: My strong accent was my main challenge in school, but now I love it because it makes me unique.
What's the biggest challenge you face with working/support the tech industry?
Raquel: I see the greatest challenge in the tech industry is the constant change. It is constantly changing. 
Mariel: I agree with that, because in the recruiting field we are always learning new programs.
Anita: Learning how to read different languages. For example, I had a problem and the development team said here is the code that finds that, you should be able to find it with this. I found it, and that was really rewarding. Know your information, go out there, be strong, and hold your own.
Vicki: There is a study that shows that men will apply for jobs where they meet 20% of the requirements, but women will not apply for jobs unless they meet 80% of the requirements. My advice is apply for it anyway. (View a similar study here.)
After the panel, students were free to ask their own questions.
What is informatics?
Arwa: For me to finish my bachelor at IUPUI, I went through informatics which belongs to software development, and computer science classes.
Vicki: Think about how to help people use technology. Make it intuitive, and how they will use the data. Healthcare, ap development, business… That does mean it is everything, but we are really concerned about how people use technology, and help them. It is applied computer science.
My teacher taught us coding. I like it, but am I supposed to know everything? It is scary and pushing me away from technology.
Raquel: You will never know everything, but we huddle in our work group to figure it out. We Google it, and figure out work-arounds together. You have help. At school you need to get the grade, but at work you have help through people and resources.
Since I am in a different pathway other than head-on technology, what are the industries that I can work with technology? What are your day to day interactions with the companies? I am trying to figure out what I want to do.
Morgan: In my day to day I work with many companies. With companies that have 3 people, what I see is they are tech people trying to start a business but they don't know where to start. They need business people to help them with administration and marketing. I work with very large companies, and small companies, but they all need the right people to work in all roles of their organizations. That is their greatest challenge.
What is your most favorite thing you do on a day to day basis?
Arwa: Working with people. You can make someone's day by asking how is your weekend and socializing a little.
Mariel: I like helping people, and being the expert in my field.
Raquel: Finding something that works better than what I have been doing.
Anita: Problem solving as I work with scheduling. I literally call it playing Tetris, because I have to schedule their time without driving them crazy. Just about that time a higher priority/critical job comes in, and I have to tear it all down and build it back up.
Vicki: When I push students to participate in projects and programs, and they come back and tell them I signed up or thank you.
Morgan: I am very inquisitive, so I ask a lot of questions. The people I get to work with are very smart and passionate about what they do, and I feel very lucky to get to work with the people I do. I take advantage of it every day.
Mariel: Networking is such an important part of what we do. It was really hard for me when I started because I was an introvert, but I pushed out of my comfort zone. You never know what it can lead to, an internship or mentor.
Arwa: My best advice for you is to create an internet account like LinkedIn, and connect with people.
What is your advice to finding your pathway?
Morgan: Learn your strengths by failing.  Failing is ok – you figure out what's not for you. Try things, and if you fail, great, you learn from it. Then when you find what you're passionate about, go for it 110%.
Arwa: Do as many internships as you can starting with high school. When you get to college, go to all the career fairs. Push yourself to do that early on. The biggest mistake college students make is not doing internships, and graduating without an experience. Experience is so important.
Employers interested in getting involved with work-based learning experiences such as this panel can go to TalentBound.org.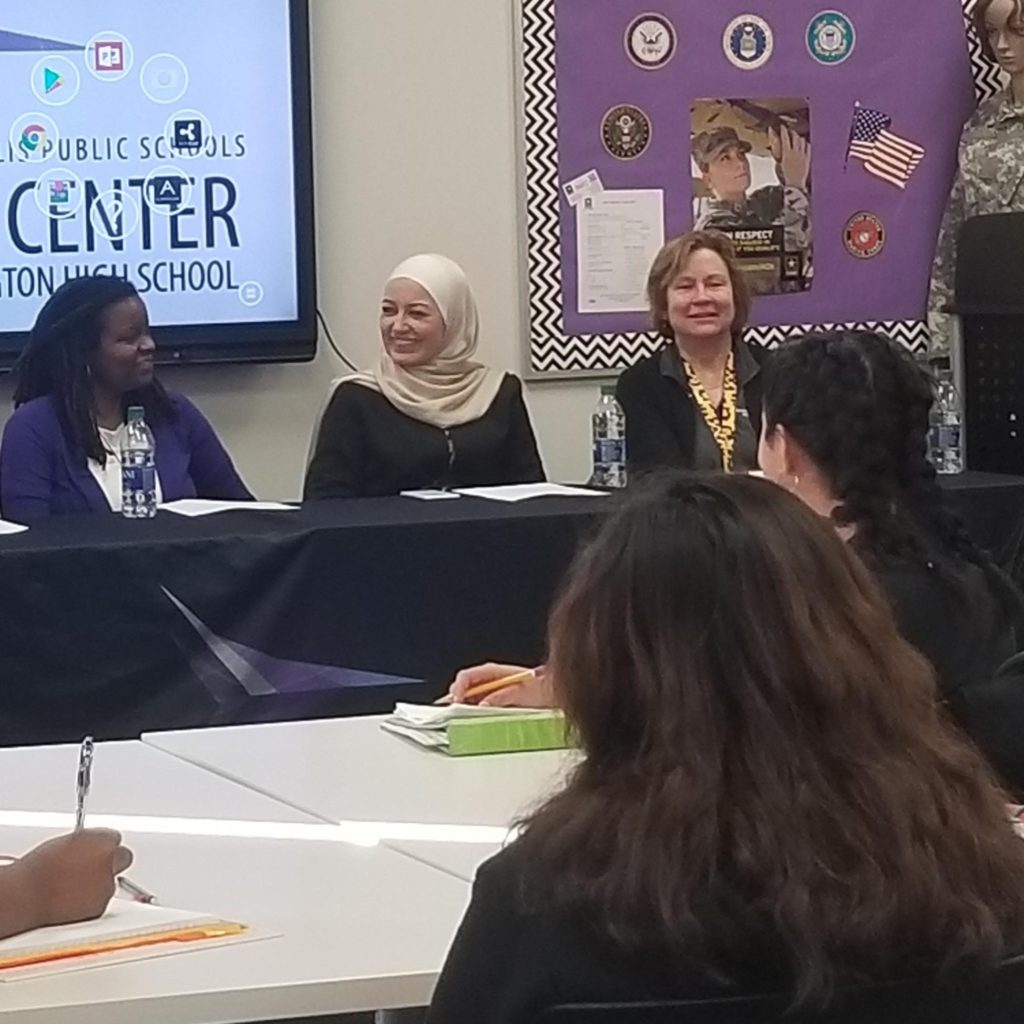 ---