Pivot Re-engagement Center: Process & Partnerships
One of EmployIndy's three strategic goals is to "Create a Positive Trajectory for Young Adults." Achieving that goal cannot be done without figuring out how to engage the estimated 30,000 opportunity youth in Marion County, an elusive group of young adults ages 16-24 who have become disconnected from the workforce and education. EmployIndy's role is to help connect young people to a career and/or education by working alongside local community based organizations to locate and positively engage this population.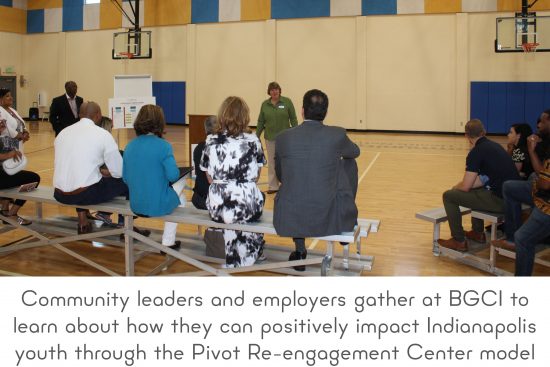 Partnering with Finish Line Boys and Girls Club of Indianapolis (BGCI), Community Alliance of the Far Eastside (CAFE), and other local organizations, EmployIndy has establishing the Pivot Re-engagement Center on the Far Eastside, as a strategy to begin formulating relationships through basketball and other positive social activities. Early success affirms EmployIndy's intention to replicate the model in neighborhoods throughout Indianapolis who are also struggling to engage opportunity youth.
BGCI was chosen as the pilot location not only because they are located in the heart of the Far Eastside, but because they are known as a place of hospitality and actively create a safe environment for participants. EmployIndy's goal of opening doors for community based organizations leads into how BGCI will take their first step: building relationships and trust among young people.
Relationships between the young adults and the re-engagement facilitators (REFs) spur on conversation about education and career choices. The REFs will mentor young adults and enroll them in a two-week resilience program with a curriculum that is designed to empower individuals to develop the skills that fuel motivation, confidence, persistence, and resilience. If they complete the program, the participants will earn three of the six Job Ready Indy badges (Mindsets, Self-Management, and Social Skills) and will be connected with either employment or CAFE. If they are connected to CAFE, there is an additional opportunity to receive the remaining three Job Ready Indy badges.
"We know they have barriers which is why we are partnering with organizations like Boys and Girls Club and CAFE to give young adults the support they need through education, mentoring, and relationship building."
– Rev. Rodney Francis, EmployIndy Senior Director of Opportunity Youth
CAFE case managers will determine what the next step should be for the participant: education or employment. They integrate fourteen service delivery elements, a Center for Working Families list of barrier-buster services utilized by the Youth Employment System (YES), and have a youth employment assistant on staff. If the young adult is taking the next step to finding employment, the Youth Employment Assistant is available to help with resume writing, job searching, and connecting a young adult with local job opportunities and/or available certifications.
If the best next step for the participant is to further their education, they will be connected to the Walker Career Center, co-located at CAFE, or Ivy Tech. Walker Career Center creates opportunities for young adults to receive industry-standard career certifications while also completing their HSE. Ivy Tech also provides training and certification programs throughout a variety of industry sectors.
Since the program's soft-launch on May 21, 2018, the Pivot Re-engagement Center has signed up over 215 individuals who are eligible to receive resilience training. The collective goal is to matriculate 100 young adults from the Re-engagement Center to CAFE, between July 1, 2018 – June 30, 2019, for more in-depth education and employment services. There is an overwhelming number of young adults who need to be supported in their endeavor to reach that next stage of life.
Businesses are able to partner with the Pivot Re-engagement Center by volunteering for mock interviews, becoming a REF, assisting with professional writing, providing opportunities for work experience, and donating to support program growth. If you would like to get involved, please contact EmployIndy's Youth Re-engagement Center Manager, Dionne Smith.
---