EmployIndy and Ivy Tech Community College Indianapolis held a Ribbon Cutting Ceremony and Open House on Tuesday, October 5th in celebration of Indy Achieves' new offices at Ivy Tech's downtown campus (50 W. Fall Creek Parkway, North Drive).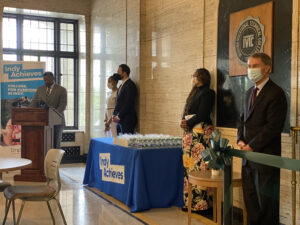 This event recognized the third year of Indy Achieves' partnership with Ivy Tech Community College as well as the opening of the Indy Achieves Student Center at Ivy Tech Indianapolis. Indy Achieves is Mayor Joe Hogsett's response to Indianapolis' rapidly changing labor market by ensuring that every Indianapolis resident has the ability to both pursue and complete a postsecondary credential or degree program. Eligible new students or former Ivy Tech and IUPUI students with an outstanding balance in Marion County can utilize Indy Achieve's wraparound services to earn a credential or degree.
The Ribbon Cutting Ceremony began at 10:45 AM with opening remarks from Indy Achieves' Leadership Team, including Matt Impink, VP Postsecondary and Executive Director of Indy Achieves at EmployIndy, and Esther Woodson, Director of Indy Achieves.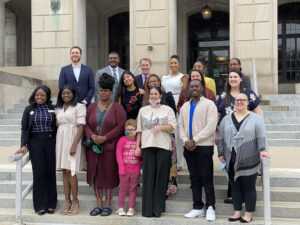 "We are thrilled to open the Indy Achieves Student Center at Ivy Tech. Over this past year, we were able to award 341 Promise Scholarships and 154 Reconnect Completion Grants to Ivy Tech students as well as grow our number of onsite student success coaches," said Matt Impink. "This space will not only support students to complete at Ivy Tech but provide supports for career connection as well."
The opening remarks were followed by an address from Ivy Tech Indianapolis Chancellor, Dr. Lorenzo Esters. Of the impactful services that Indy Achieves offers students, Dr. Esters noted, "The success of Indy Achieves at Ivy Tech has been life-changing for our students." Indianapolis Mayor Joe Hogsett was also a keynote speaker at the celebration, sharing his pride for the program and of the achievements that students have accomplished with help from Indy Achieves.
"Since we created the Indy Achieves program in 2018, the importance of its original motivation has only heightened," said Mayor Hogsett. "By providing more residents with accessible routes to complete post-secondary education, we are promoting equity and opportunity at a critical time. Today's Ribbon Cutting renews that central ambition while marking the continued progress and expansion of this vital program."
Indy Achieves student, Adriyanna Staten, and Ivy Tech Indianapolis Student Government Association President and Indy Achieves student, Tapiwa Mzumara, also gave testimonies to the impact of Indy Achieves on their personal lives and professional careers. After beginning her post-secondary education in 2013, Mzumara had to put her education on hold while caring for her chronically ill mother, dealing with financial hardships, and working to become a DACA recipient. She found herself with an outstanding balance and no way to pay it, forcing her to not return to Ivy Tech the following Spring Semester.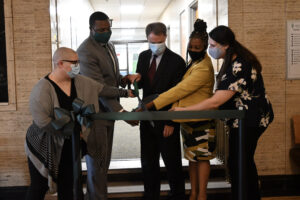 In 2019, Mzumara was informed of Indy Achieves' Completion Grant while working in retail to make ends meet. Marion County residents may apply for a completion grant to cover unpaid bursar bills or other substantial debts preventing students from continuing their postsecondary education. Upon receiving a Completion Grant, Mzumara was able to return to Ivy Tech Community College and continue pursuing her degree in Biotechnology. "Tapiwa has shared that this grant changed the trajectory of her life," Esters added. "We are so proud of everything she and all Indy Achieves recipients have accomplished."
The new offices remained open following the ribbon cutting, allowing students to see the new space and connect with Ivy Tech and Indy Achieves representatives. You can check out WISH-TV's news coverage of this event to learn more. 
---