Washington Township Adult Education Program Helps Student Achieve Her Education Goal
The following excerpt is a success story shared by a student from the MSD Washington Township Adult Education Program:
My journey began in 1990 when I was expelled from high school.  It involved a situation where I unknowingly assisted someone whom I should not have.  I went to Warren Township and took the GED test, but when I didn't pass it, I was devastated and gave up.  I then started working at Wendy's and with having a job, did not think I would need my high school diploma.  I was still young and naïve at this time.
I eventually went back to school at Howe High School as they were offering GED classes.  But honestly, I preferred hanging out with friends, and so I missed a lot of class.  I took the GED exam again, and failed it, so I pretty much continued this pattern for the next three years.  Finally, I just gave up.
As the years passed, it seemed as though my world was crumbling around me.  I lost my dad in 2006 and my husband was sick and hurting all of the time. My mother passed in 2016 and I felt as though I was going crazy.  I did promise my mom that I would get my high school diploma and so I decided to begin again.  I would say to myself, "no matter what has come against me, I was now determined more than ever to achieve my goal!"
I found the MSD Washington Township Adult Education Program online and that is where I once again began my journey, after so many years had passed.  It was then I met my teacher, who continued to encourage me.  She would say, "I know you can do it!"  With her support, and my determination, I felt I was unstoppable.  In my first attempt in taking the TASC (High School Equivalency Diploma), I passed all subjects but science and math.  On my second attempt, I passed science, but not math.
I then began to work diligently in the online programs provided.  My teacher would not give up on me and continued to work with me providing me the math knowledge I needed.  Even in the last couple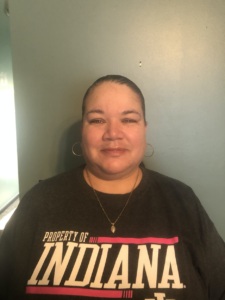 of years, I continued to have adverse circumstances come against me, but I promised myself, "I am really going to do it this time!"
On Friday October 16, 2020, I am happy to report that I passed the math portion of the TASC exam and as such, passed the entire exam. I achieved my goal after so many years!
I am now enrolled in PharmTech training and once I am certified, I am looking forward to "A Whole New World." (As in the song for the movie, Aladdin 😊).
Thank you Washington Township Adult Education! This program offered me hope when my whole world was crashing down around me.
Check out FOX 59's recent feature on the work being done by the MSD Washington Township Adult Education Program here.
—
Through the federal CARES Act, the City of Indianapolis has appropriated approximately $2.6 million towards Rapid Reskilling Grants to be distributed by EmployIndy to local adult education providers. These funds aim to increase the opportunities available to adult students seeking their high school equivalency, high school diploma, or postsecondary certifications. You can view partnering adult education programs, view available trainings or find additional resources by visiting: workoneindy.com/adult-ed/.
---