Success Story: Bethany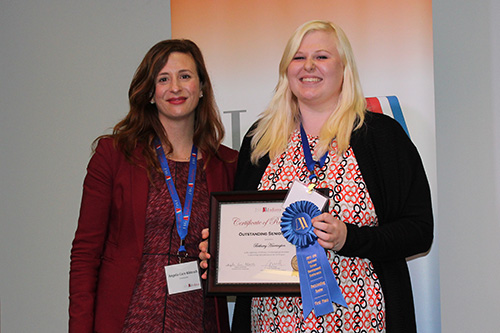 When Bethany was in eighth grade, she was diagnosed with leukemia and spent the majority of the year in and out of Riley Children's Hospital. When she was better, she and her parents began an outreach group to invest in the community. However, because of this difficult time in her life, Bethany was very shy and did all she could to fly under the radar – especially at school.
During her sophomore year, she was introduced to Jobs for America's Graduates (JAG). Immediately she was intrigued by the volunteer opportunities available through JAG and its focus on graduating high school and learning how to explore and invest in a future career. The next year, Bethany joined JAG and almost immediately was elected to be in charge of increasing civil awareness for their program at Decater Central High School. She loved this new responsibility because it gave her a sense of purpose and importance, knowing she was making an impact.IN
BETHANY'S WORDS
"My junior year, I was elected to be in charge of civic awareness which gave me a sense that I am important and making an impact. It allowed me to focus on other people while also focusing on school work. It was a completely judgement free zone. The specialists would explain it to you- no one got left behind in JAG."
Bethany was elected to be the president of JAG her senior year and had the amazing opportunity to connect JAG specialists with students. She also had the opportunity to job shadow an ENT, which quickly changed her mind on what she had originally dreamed for her career pathway. During the job shadow, she transferred to shadowing a nurse and felt like she found her calling. She says that learning to be confident, speak up for herself, and speak confidently in crowds, are the biggest impacts JAG has had on her life.
Now Bethany is planning on going to Ivy Tech for two years and transferring to IUPUI, where she hopes to work at a power plant so she can use the EMT certification she earned through the JAG program. Her new dream job is to become a trauma nurse technician where she can be in the room during the surgeries.
---