Job Ready Indy: Impactful Job Skills for a Career
Some job seekers assume employers are exclusively seeking individuals with a specific skill set, such as mowing, mulching, or irrigation for a professional landscaping company. However, more skills applicable to any job are defined by character, communication and attitude. Melissa Harris, BrightView Landscape Vice President and General Manager, highlights that their organization "looks for character first. We ask a lot of situational-type questions rather than landscape or horticultural. We want our employees to demonstrate good character and positive decision-making skills in the past."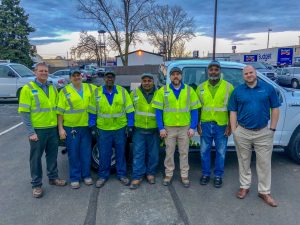 DaShawn Mitchell is a BrightView recent hire from Fathers and Families, an Indianapolis community-based organization focusing on helping get men into employment or education in addition to being a recipient of Workforce Innovation and Opportunities Act funds through EmployIndy. While he was at Fathers and Families, DaShawn took Job Ready Indy courses where he was taught workplace and social skills, self-management, and learning strategies for success.
Job Ready Indy is an EmployIndy employability skills program that was developed in partnership with and vetted by the Indy Chamber and the City of Indianapolis. This program was established to assist young job seekers in becoming valuable employees and to provide employers with high-quality individuals who have completed over thirty hours of employability skills courses.
Alex Vetter, a Regional Market Recruiter at BrightView Landscape, mentions that DaShawn was one of the best candidates that he had interviewed since starting at BrightView. "He wants to do a great job, learn skills, and grow in the organization. His attitude was exactly what we were looking for." Job Ready Indy prepares participants for the workforce by arming them with the skills they need to excel on the job – meeting immediate employer needs by cultivating applicants who have learned the importance of actions like dressing appropriately, being timely, valuing their position, and demonstrating positive character and genuine respect for themselves and others.
EmployIndy's mission is to bridge the ever-growing skills gap in Indianapolis. It is no secret that employers are struggling with retention and that many job seekers struggle to meet employer needs because of their lack of soft skills displayed on the job. In addition to job ready participants, EmployIndy also utilizes a Referral Portal where individuals who have received services from community organizations are vetted to ensure they have the employability skills needed to succeed in a workplace setting.
"Having a high school diploma is always a plus," says Alex. "But someone with a great attitude and looking to grow within the organization can be trained on the job and gain skills that can be used to benefit us in the future."
Job Ready Indy works for both the supply and demand side of the workforce by preparing job seekers for work while also providing employers with eager candidates who have the skills to succeed – ultimately building and strengthening the workforce in Indianapolis and encouraging inclusive economic growth in the city.
Businesses interested in becoming an "employer champion" for Job Ready Indy should visit jobreadyindy.org.
---