Genesys hosts JAG students on an industry tour
INDIANAPOLIS, IN – December 6, 2018 – Today a group of Jobs for America's Graduates (JAG) students from Decatur Central and George Washington high schools visited Genesys, a software-driven customer experience-centered organization on Indy's Northwest Side, to learn more about the technology industry. JAG is a state-affiliated program that EmployIndy guides for 14 high schools here in Marion County, designed to provide opportunities for high school juniors and seniors to explore and establish career options and goals. Company tours like these aid students' growth and offer a look into potential careers as they plan for their future and transition to post-secondary education and/or the local workforce.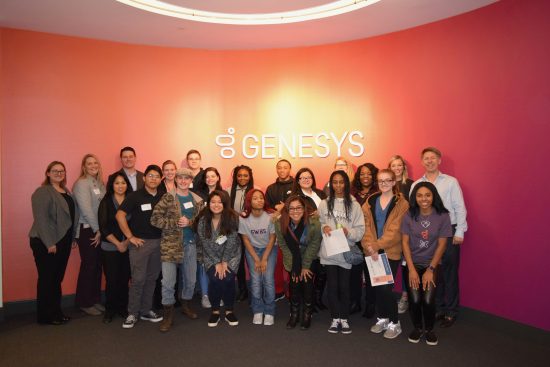 "We have to attract students earlier and what's even more important is that students are open to opportunity out there and they know they can achieve it," says Todd Pedersen, VP of Corporate Affairs at Genesys, who coordinated the day of facility tours and staff presentations. "There doesn't have to be a perfect path through software engineering, there are a lot of ways to end up in a technology company."
The students learned about the mission of Genesys, their passion for software enhancement and their community impact as they travelled through the building, heard from panelists, and engaged one-on-one with Genesys employees. As the Indianapolis tech industry continues to grow, large and small companies alike are taking time to teach and influence young adults who are the future of the workforce.
"I liked this visit so much that it actually has influenced my own career interests from just graphic design to doing what they do here," said Joseph Trisdale, a junior at Decatur Central High School. "I thought, 'hey that's really cool – I could work in tech and still get to interact with people,' and that would be perfect for me since I am that kind of sociable person. I want to be there to help solve problems people have and be able to fix problems fast, just like they do here."
Through JAG and other programs like Job Ready Indy and Project Indy, EmployIndy partners with local businesses that can teach young adults about available opportunities and career paths in high-demand industries.
Today's event provided these JAG students with a better understanding of the what their future could look like, right here locally. When it comes time to seek out a career, students will remember immersive experiences like business tours, job shadowing, internships, and part-time jobs to make more informed decisions that align with their interests and talents.
Is your business interested in similarly connecting with young adults? Connect with our Business Partnerships team to learn more!
###
About EmployIndy
EmployIndy guides the local workforce ecosystem and makes strategic investments to remove barriers to quality employment for underserved and underrepresented residents. As the workforce development board for Marion County, guided by 21 business, civic, education, and non-profit community leaders, EmployIndy invests $20 million in public, private and philanthropic funds for both youth and adults annually.
About Genesys
Genesys® powers more than 25 billion of the world's best customer experiences each year. Our success comes from connecting employee and customer conversations on any channel. Every day, 11,000 companies in more than 100 countries trust our #1 customer experience platform to drive great business outcomes and create lasting relationships. Combining the best of technology and human ingenuity, we build solutions that mirror natural communication and work the way you think. Our industry-leading solutions foster true omnichannel engagement because they perform equally well across channels, on-premises and in the cloud. Experience communication as it should be: fluid, instinctive and profoundly empowering. Visit genesys.com on Twitter, Facebook, YouTube, LinkedIn and the Genesys blog.
---