From High School to Postsecondary, EmployIndy Prepares Youth for Workforce Through Mentorship
January is National Mentoring Month, celebrating the nature of mentorship in its ability to amplify change and help young people find and follow their passions, one relationship at a time. With a strategic goal to create a positive trajectory for young adults to actively participate in the workforce, EmployIndy uses mentorship to engage Marion County youth and prepare them for a future of success. By meeting students and young people where they are, local business leaders and educators work alongside EmployIndy staff to share experiences and expertise that both foster career development and bring inspiration.
"Hi Ana! Just checking in to see how you're doing being home from school? I'll be sending info later on registering for orientation, but I'm here if you need anything. Stay healthy."
Each school year, hundreds of Indy Achieves students planning to attend IUPUI and Ivy Tech have the opportunity to connect with a mentor, a local community or business leader, and receive support through text messages, like the one above. Born out of the belief that all Indianapolis residents should have the ability to pursue and complete a postsecondary credential or degree program, Indy Achieves staff and mentors diligently offer support to students in everything ranging from filing for FAFSA to registering for classes. This mentorship goes a long way in preventing summer melt, a phenomenon where high school graduates and returning students never make it to classes in the Fall due to overlooked letters and emails, unfinished financial aid forms, failure to turn in important health documents, and more. In 2019, over 70% of Indy Achieves students took advantage of this mentorship offering and received the support they needed to start or continue their postsecondary.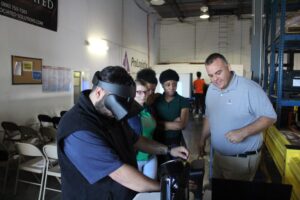 Through Talent Bound, high school students have the opportunity to connect with local employers and business leaders, called Talent Mentors. In a group setting, students gain career knowledge, industry exposure and develop their personal network as they meet virtually and in-person with their Talent Mentor. In 2020, Talent Mentors worked with students at 25 mentoring events, impacting the lives of over 145 students within the IPS school system. These students had the opportunity to learn about competencies, expectations and experiences within the health sciences, business & finance, cosmetology, culinary, computer science, automotive, advanced manufacturing, military, construction and visual arts industries. 
Young people outside of the education system also have the opportunity to engage in mentorship through the YES Indy Power Huddle program. Power Huddle works to mentor local youth through a two-week intensive training where individuals learn how they can change their future trajectory that will help them take the next step in furthering their education or career. To provide support and accountability, Power Huddle instructors use mentorship and relationship building to help move participants from a fixed mindset to a growth mindset. Through adult mentoring within the Power Huddle program, students also develop employability skills, find help with career navigation, receive life coaching, job readiness training, adult education services, and counseling.
If you would like to help prepare Marion County's youth and young adults for the workforce through mentorship, use the links below to find out how you can become involved with an EmployIndy-led program:
---