Flanner House Addresses Food Desert with Cleo's Bodega & Cafe
A study this past November stated that over 200,000 Marion County residents live in food deserts – areas defined by low food access and low income (SAVI program, IUPUI Polis Center). With this knowledge and a mission to raise up the community from within, Flanner House began constructing Cleo's Bodega and Cafe on the Near Northwest Side of Indianapolis.
Following the concept of providing paid opportunities for those in their neighborhoods, YouthBuild Indy participants to assisted in the construction of the Bodega, providing young adults with the paid work experience needed to thrive in the workforce.Over the course of five days, five trainees and two carpenters applied 8000 square feet of drywall and finish to Cleo's Bodega.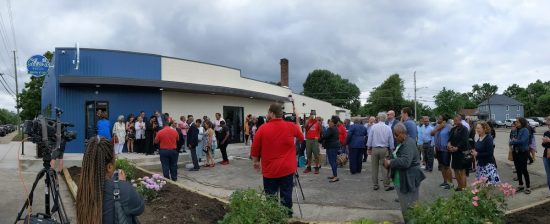 The fresh food at Cleo's Bodega and Cafe is all locally grown and sourced from farmers markets throughout Indianapolis, another way that Flanner House is bridging the low income/low food gap in their community. "At its manageable size and its involvement of local farmers and producers, Cleo's Bodega may very well serve as a model for solving food scarcity in our city," said Mayor Joe Hogsett at the grand opening of Cleo's on June 20.
As part of their efforts to solve the food desert in their community, Flanner House has implemented the F.E.E.D. (Farming, Education, Employment, Distribution) program, funded by EmployIndy's YES Indy grant. This grant makes it possible for providers to continue growing their programs that mirrors EmployIndy's youth initiative focus: to impact, engage, and create opportunities for young adults in Indianapolis, specifically the opportunity youth population.
The F.E.E.D. program is designed to help young men and women who are currently not enrolled in school, unemployed, and engaged in the legal system gain the skills they need to be educated in the growing sectors of the local food economy in Indianapolis. In addition, these young people are provided with paid work experiences through Flanner House by planting, harvesting, and going out into the community through farmers markets.
Paid work experiences, bridging education gaps, and engaging in inclusive growth are all crucial to building a successful workforce. Not only do the individuals who go through the YouthBuild Indy and F.E.E.D. programs receive basic on the job training, they are also growing their skillset. YouthBuild Indy participants receive their high school equivalency and/or NCCER certification upon program completion and F.E.E.D. participants gain experience in growing, preparing, and processing food as well as learn first hand about food distribution in sales.
"It is the vision of this neighborhood that has made all of this possible," said Tedd Grain, Executive Director at LISC Indianapolis. Neighborhoods and the residents herein rely heavily on inclusive growth and development in order to improve their quality of life.
With a mission of furthering the workforce by providing individuals with the skills needed to excel, EmployIndy is deeply engaged in both neighborhood redevelopment and the upskilling of young adults in Indianapolis. "The relationship with EmployIndy is exceptional," said Turner. "We are constantly in need of relationships on the employer side and EmployIndy has been crucial in helping us broker those relationships."
---