Young Indy Woman Finds Employment and Support with YES Mobile Services
The COVID-19 pandemic has left the public fearful for the health and well-being of their families, but for many Hoosiers, the resulting recession has destabilized their entire lives amid the collective unrest within our communities. The closure of non-essential businesses left many jobless, and workers with low-wage, non-promising jobs found themselves on the brink of economic disaster.
23-year-old Daijia Bible is one of the aforementioned workers who became unemployed due to COVID-19. An Indianapolis native and graduate from Arsenal Tech Highschool, Daijia was working at a restaurant when the pandemic hit the United States. A mom of two toddlers with her third child on the way, Daijia lost her job in April of 2020, a month before her due date. Her childrens' daycare also shut down, and Daijia found herself without an income nor a place to live in the midst of being the sole provider for herself and her young children.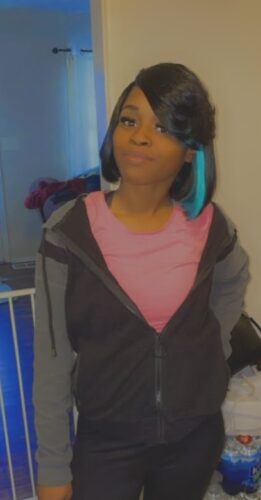 Daijia remained dedicated to her family, searching for ways to earn money and take care of her young children. In June of 2020, she was connected to Julie Barrett, Workforce Development Manager at the Martindale Brightwood Community Development Corporation (MBCDC), the only mobile Youth Employment Service (YES) program provider in Central Indiana. With an innovative delivery system, MBCDC is able to provide YES program services that are tailored to each individual. The goal is to uniquely impact opportunity youth– people age 16-24 who have become disconnected from school and/or work– with support to reconnect them on a career path. 
Mobile YES services allow MBCDC programmers to meet youth and young adults where they are at, helping them attain self-sufficiency through education, training, and employment. 
Julie enrolled Daijia in the mobile YES program over the phone. Shortly thereafter, she took Daijia to purchase necessities for her family and secured her with a mobile phone. 
"My first goal was to get Daijia stable and show her that she had somebody who was going to show up for her," said Julie, recalling her first meeting with Daijia. "She had never had someone show up for her before, and that is what she really needed."
Daijia was living at Coburn Place when Julie was able to place her in a job through the Disaster Recovery Grant. Daijia took a position as an Outreach Worker with the Ross Foundation in September of 2020. She now works directly with the Eastside community, offering resources and answering questions throughout different neighborhoods. "I love helping people and being a helping hand for the Eastside. The people I meet are my favorite part," said Daijia, recounting her experiences on the job. 
In October, Daijia completed YES Indy's virtual Power Huddle program, a two-week job readiness experience where young persons have the opportunity to participate in group discussions, explore opportunities and support through YES Indy. Daijia experienced job preparatory activities that helped her identify her academic, career, and life goals while developing a map to achieve them.
"The Power Huddle helped me out because it made me sit there and set goals for me and my children and also think about what I really want for my life," she said. Daijia was recognized amongst her cohort to present her achievements at the Power Huddle graduation ceremony.
Daijia and her children now have their own place as a result of her continuing her part-time position at the Ross Foundation. She still works closely with Julie as they continue to make plans for Daijia's future; she is currently exploring options to attend nursing school at either Ivy Tech Community College or St. Joseph's College of Marian University. 
"Without Miss Julie, I would have never gotten this far. I wouldn't have known anything about YES Indy, and because of it now I have a job and can take care of my kids," said Daijia. "No matter what, I just can't be afraid to move forward."
---