INDIANAPOLIS – 15 December 2021 – On Wednesday morning, EmployIndy and YES Indy gathered at the Finish Line Boys & Girls Club to honor over 40 young people who were recognized for completing the YES Indy Power Huddle program, a two-week job readiness experience where individuals learn how they can change their future trajectory as well as develop a variety of employability skills that will help them map out and work towards reaching their academic, career, and life goals.
Central Indiana is home to over 30,000 Opportunity Youth– young adults, ages 16 to 24, who have disengaged from secondary education or are disconnected from the workforce upon graduation. In efforts to re-engage Marion County's Opportunity Youth and create a positive trajectory for these young people, EmployIndy launched YES Indy REC in 2018. Shortly thereafter, the Power Huddle was launched as the forward-facing program of YES Indy REC. Since the inception of the Power Huddle program, this is the largest cohort to have completed the program.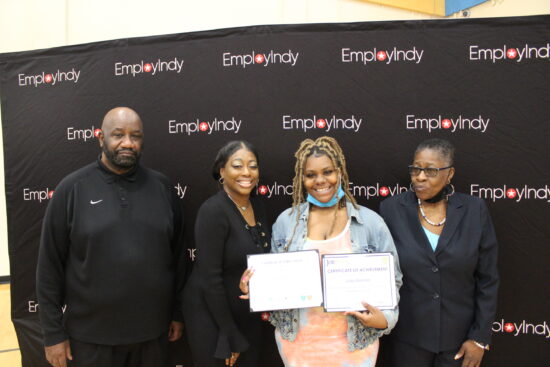 "The Power Huddle most definitely gives you more opportunities. The experience helps you understand how to be a good worker and with our mock interviews and other things we did, it helps prepare you for getting a job as well," Said Jada Webster, an honoree at Wednesday's event and completer of the Power Huddle program.
Upon completion of the program, participants will be enrolled in YES Indy where they are connected to a career navigator who will offer support and guidance as they enroll in education and training or transition into the workforce. As a part of enrollment within YES Indy, other services are available as well, such as transportation, temporary housing, re-entry services, counseling, and more.
"The growth of the YES Indy network has been instrumental in ensuring we create opportunities to support young people in our community so that they can see a vision for themselves in the future and in the workforce," said Angela Carr Klitzsch, EmployIndy President & CEO. "Adding the Power Huddle has allowed us to dig deeper with young people and help them realize their dreams and desires."
In an effort to provide participants with additional pillars of comprehensive wellness, YES Indy launched a partnership with the Fifth Third Foundation through a grant award that expanded the Power Huddle curriculum to include Fifth Third Bank's Financial Education for High School course as well as opportunities for High School Equivalency/Adult Basic Education courses as a result of their grant award.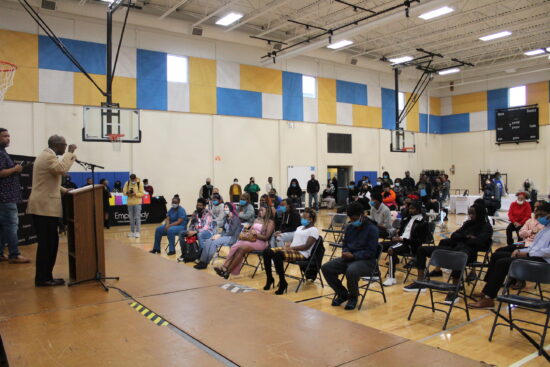 "Through the great work of my colleagues and our many community partners, the Power Huddle experience is transforming lives in an inspiring way," said Rev. Rodney Francis, Chief Programs Officer at EmployIndy. "We're seeing young adults come in on that first day nearly hopeless, with their heads hanging low, disengaged, disenchanted and disillusioned by their circumstances and lack of opportunities for their lives. But by the end of the two weeks, they are standing before the entire group smiling, heads up, full of hope and proudly presenting vision boards for their lives and futures."
In addition to honoring participants who completed the Power Huddle program, YES Indy also honored a handful of Marion County youth who completed the EcoLogic Restoration Internship and programming with YouthBuild Indy.
Registrations are currently open for the next YES Indy Power Huddle cohort, which runs from Tuesday, January 18th through Friday, January 28th at the Finish Line Boys & Girls Club on Post Road. To learn more about YES Indy REC and the YES Indy Power Huddle , visit yesindy317.org/power-huddle.
About EmployIndy
EmployIndy guides the local workforce ecosystem and makes strategic investments to remove barriers to quality employment for underserved and underrepresented residents. Our vision is for all Marion County residents to have access to services and training necessary to secure a livable wage and grow in a career that meets employer demand for talent. As the workforce development board for Marion County, guided by 24 business, civic, education and nonprofit community leaders, EmployIndy invests $20 million in public, private and philanthropic funds for both youth and adults annually. Learn more at employindy.org.
###
---