EmployIndy held an outing for the inaugural cohort of the Modern Apprenticeship program at Victory Field on Thursday, September 30th. Youth Apprenticeship Managers and other EmployIndy staff joined the Youth Apprentices for an Indianapolis Indians game to celebrate the progress of and community within the pilot cohort.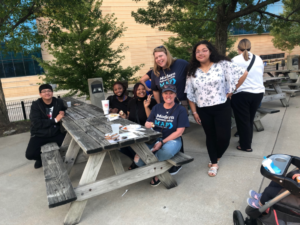 The entire MAP team enjoyed food and drinks before watching the game, giving the Youth Apprentices the opportunity to further connect and share their experiences. Their apprenticeships began at the start of the school year after completing the Summer MAP Bootcamp, where apprentices developed their employability skills and networked with the inaugural cohort.
Ja'Kyra Cox, a junior at George Washington High School, was amongst the Youth Apprentices who attended the game. She is currently an apprentice at Ivy Tech Community College and has thoroughly enjoyed her experience this far, saying her apprenticeship is what she looked forward to the most when starting her day.
Cox also noted how much of a learning experience the Modern Apprenticeship program is. It has been a "challenge" for her to balance both work and school, but the community and opportunities within her apprenticeship have been the best part.
Ramiro Delgado, a junior at Arsenal Technical High School, is apprenticing with Indianapolis Public Schools' (IPS) building maintenance team. He also attended the game and spoke of his experience as a Youth Apprentice. Delgado noted that the transition from a regular high school student to a MAP participant was difficult at first, but now that he is settled in his position, he really enjoys "fixing technical problems around the local schools."
Clarissa Hunt of Pike High School is a Youth Apprentice at Pepper Construction and has found her MAP experience to be very enriching thus far. She said, "Not only do I love this program, but I am learning skills and tools I can actually use in a job." Kinaya Hines, a junior from North Central High School and a Youth Apprentice at Roche Diagnostics, echoed Hunt's words, also noting that her apprenticeship has really taught her the importance of responsibility and communication.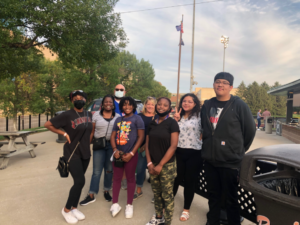 Modern Apprenticeship is an integral program of Talent Bound, EmployIndy's work-based learning initiative that supports young people throughout Marion County (both in school and out) as they investigate different career pathways and are exposed to local employers in the workforce. Dr. Mechelle Polter, Director of Talent Bound, joined the Youth Apprentices at the Indians Game. 

"The best part of this outing was sitting at the table chatting with the apprentices about their experiences," said Polter. "Talking to them in a casual setting really brought life to the program we have spent so much time to build."
The Youth Apprentices who joined the MAP team for the Indianapolis Indians game collectively recommended the Modern Apprenticeship program. Melanie Garcia, an apprentice with the K-12 and Postsecondary team at EmployIndy where she directly works with K-12 programs, noted that Modern Apprenticeship, ". . is an opportunity that upcoming high school juniors do not want to miss!"
The Modern Apprenticeship program combines work-based learning and the traditional classroom curriculum to fortify the skills and experiences young people need to succeed in the modern world of work.
"The Apprentices are so excited and motivated by what they are doing. One apprentice said how much he enjoyed learning not just behind a desk," said Polter. 
---