From the Assembly Line to the Dean's List
LaKeshia Hardy was raised in a single-parent home and became a mother just after graduating high school. She was on welfare in her younger years, but even in hard times strived to stay positive – she knew that she wanted more for herself and her family. She began to look for steady work and LaKeshia filled out a simple application on one sheet of paper and landed a job on the assembly line at Carrier. Over the years, she realized she wanted to be challenged in a role she could achieve if she gained experience beyond her high school education.
Initially, this job changed her world. LaKeshia was able to finally get ahead. She started working overtime to pay off bills, earned seniority to take better shifts, and reached a point where she was saving money. She and her husband worked different shifts to accommodate their children, and life was good – busy and stressful, but good.
Suddenly, after 13 years, Carrier announced they were moving hundreds of positions to Mexico. LaKeshia had built a life around a job that was going away and now had the opportunity to make this change she had been imagining. As a Carrier worker, she had a limited skill set and she knew with further training and education she would be able to achieve whatever goals she set her mind to – and inspire her children to dream big along the way.
"I had been making money – it was a job – but it never felt like a career," says LaKeshia. "Going back to school, that felt like a path to a career."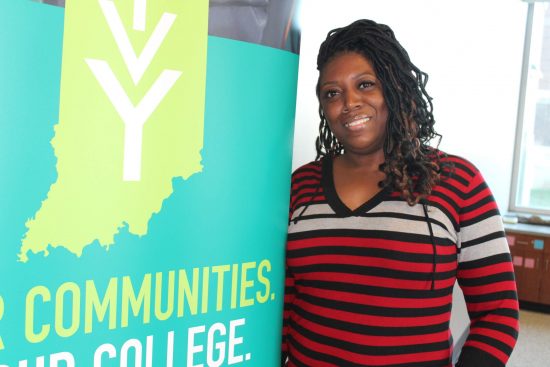 Interested in learning about a new career options, she took full advantage of meeting with a WorkOne Indy career navigator. LaKeshia was informed about different manufacturing training and certification opportunities, detailed in materials created by CAEL specifically for Carrier workers. But she decided to go down a different path and make choices that would directly impact the future of her career.
As she decided to utilize this opportunity to make a transformative change, her career navigator did a thorough analysis of her skills and interests, urging LaKeshia to hone in on a career that she would love. Because of her own life experience, the idea of helping troubled high-schoolers overcome barriers, struggles, and emotional difficulties was a passion she wanted to pursue. Then, identifying social work as a correlating field of study, she was connected to Ivy Tech and enrolled in an associate's degree in human services.
Working towards her goal, LaKeshia is set to graduate in May 2019 with intent to receive her bachelor's in social work from IUPUI. She is involved with her department's charitable student group, maintaining a 4.0 GPA, made the Dean's List, and is eager to be the first in her family to earn a degree. "The services available have not failed me, and what you put in is what you will get out of it," she says. "I can't wait to walk across that stage."
---