Success Story: Melynda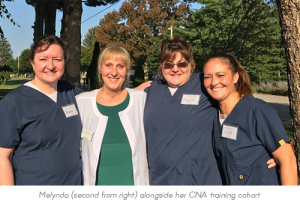 Anne Knapke is a Talent Development Specialist and Career Advisor at WorkOne Indy East where she works with a individuals to help them through their job search and/or education process. Having as many as 62 clients at one time, she is dedicated to helping others take the next step in their career.  Anne had only been working for a few days when she first met Melynda.
Melynda was a transfer case and was working on obtaining her TABE (Test of Adult Basic Education) when they met. She had already taken an equivalen­­cy test and did not pass. After this setback, Melynda lost hope in herself and had a lot of anxiety, thinking she would never reach her dreams. Anne believes that "many times, it's fear that holds people back. We have to help people believe in themselves and give them the tools and encourage and uplift." This is the heart behind many of the WorkOne career advisors as they work with clients to pursue their dreams and take steps in their journey.
At the time, Melynda was working as a home health aide and was very passionate in pursuing a career as a CNA (Certified Nursing Assistant). The perfectionist side of Melynda pressed on, determined to create a better future for herself. Through an additional 70 hours of courses and training, she received her HSED (High School Equivalency Diploma) with flying colors. After this, Anne was able to further assist her in receiving CNA Training through WorkINdiana. The WorkINdiana program provides over thirty certificate training opportunities while also earning an HSE or improving skills in an Adult Education classroom.
They continued to meet to format Melynda's resume to help her stand out in her job search so she could start her career as a CNA. "She is the only client I have given my cell phone number to," says Anne, emphasizing both the depth of their relationship. After finalizing her resume and becoming certified, Melynda began to reach out to employers and had several interviews within a week.
After her interviews, she was offered a variety of positions and chose to work at Wellbrooke of Westfield: The Center for Health & Wellness. She started on October 17, 2017, and is learning more and more every day. In Melynda's words, "This experience has been one of the best experiences in my life with something to show for my efforts. They all saw something I couldn't see in myself." She is passionate about the work she is doing with the older population and openly thanks Anne for being "an amazing counselor, mentor, and leader who helped me set and obtain my goals." Anne and Melynda still keep in touch and meet regularly.
---