JAG Senior Send-off Celebration 2018, Jessica Brown Memorial Scholarship Awarded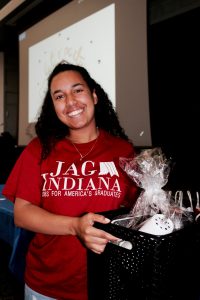 After a year of hard work and preparation for life after high school, seniors who are enrolled in the Jobs for America's Graduates program were able to gather for a senior send-off celebration. During an afternoon at Ivy Tech, students and their JAG specialists from each school enjoyed  of conversation, pizza, and a scavenger hunt.
The students also were able to participate in a series of raffle drawings to win prizes for their next journey, including dormitory essentials like shower caddies and towels, reading lamps and hangers, polaroid cameras, and even a mini-fridge.
The highlight of the event was the announcement of the recipient of the Jessica Brown Memorial Scholarship. Through generous contributions since our dear colleague's passing, we have been able to endow a scholarship in her name, awarding $1000 annually to a JAG senior who exemplifies Jessica's spirit through dedication, hard work, a passion for community service, a genuine interest in the lives of their peers, and random acts of kindness. (Donations are still being accepted to continue to build the scholarship for future years.)
This year's winner is Tyrah Matherly of Decatur Central High School. "Tyrah sought out JAG on her own, coming to me personally asking to be part of the class," says her JAG Specialist Molly Hansen, who nominated Tyrah. "I had students who were friends with Tyrah who were struggling. Tyrah helped get them to school to personally ensure that they graduate – but she never seeks to be boastful or get acknowledgement for her kindness 'behind the scenes'… She just says she's doing her part." Tyrah has been enrolled in advanced classes this year to get a head start at IUPUI where she plans to dental hygeine this fall.
As part of JAG, graduates are supported for one additional year after high school. This follow-up year ensures that students continue to receive the counseling, skills development, and career services needed to be positioned for a lifetime of career prosperity. Check out some more photos from the event below, and congratulations to all of our JAG graduates!
---