Local businesses sponsor and judge student competitions at regional JAG CDC
Today 136 Marion County high school juniors and seniors met at the Indianapolis Marriott East for the regional JAG Career Development Conference – including competitions around employability, skill development, and career goals. All students are part of the Jobs for America's Graduates program, better known as JAG, which has a presence in fourteen high schools throughout the county. Throughout the year, these students learn professional skills and the Career Development Conference provides them with the opportunity to showcase these skills to employer judges. By working with these students, Jobs for America's Graduates is helping to prepare them for their future.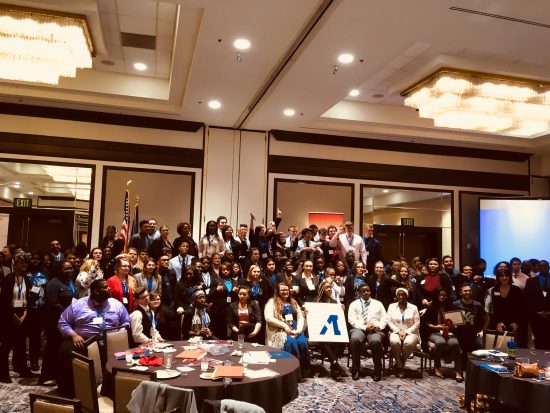 View the full photo album on EmployIndy's Facebook Page
The morning kicked off with former Colts player Marlin Jackson, speaking to to the audience of students, JAG specialists, and volunteer judges from local businesses. "In life, in every aspect, you will need a growth mindset – especially in the workplace. When you get criticism, can you take it or do you get defensive? When you take that constructive criticism and utilize it, you grow. That's why it's called a growth mindset."
"When you persevere, anything is possible." – Marlin Jackson @marlinj28 @Fight4LifeFound this morning at the @jagindiana Career Development Conference! #JAGNextLevel pic.twitter.com/mjxcDUKL6o

— EmployIndy (@EmployIndy) February 7, 2019
EmployIndy would like to extend a big "thank you" to our sponsors for their support of this event! Our sponsors for the 2019 CDC included gold level sponsors: Bank of America and Fight for Life Foundation; silver level sponsors: St. Vincent/Ascension and Duke Realty; and bronze level sponsors: PNC Bank and Lift Academy. Sponsors had representatives attend the event to serve as judges for competitions, as well as to network with students during lunch. Here is what they had to say:
"I think what was most striking was the confidence that these students displayed during their Critical Thinking presentations. Students that have been part of programs like JAG will stand out when they come interview for positions, because they will have gone through scenarios where they had to think on the spot and provide some depth of thought around critical questions."

– Andrew Crask, Indianapolis Market President, Bank of America
"It is very important to get students interested in healthcare and show them the various career possibilities in the industry outside of becoming a nurse or doctor. As a judge in the Career Presentation competition, I noticed that the students' level of professionalism was impressive. It's very important to be able to walk up and shake someone's hand with eye contact."

– Karen Jenne, Ascension/St. Vincent
"Our new flight academy is trying to help diversify the aviation profession. Having worked with EmployIndy and knowing what the JAG program is about, we thought tabling at the JAG CDC would be a perfect opportunity to show students a career pathway that they weren't aware of and give them an opportunity to learn more about it. While judging the Entrepreneurship Plan competition, I was impressed by the students' professionalism and confidence."

– Martin Kirkwood, Lift Academy
We're off and running at the @EmployIndy CDC 2019! Students from Decatur Central are proposing a salon business concept first up in the entrepreneurship plan competition! #JAGFamily #JAGIndiana pic.twitter.com/UR3MtjQTtB

— JAG Indiana (@jagindiana) February 7, 2019
Another exciting part of the day was Kenzie Academy's announcement that they are offering up to $300,000 in scholarships for JAG students across Indiana. Reps from Kenzie were on site sharing details for interested students to learn more about their accelerated, project-based learning in the in-demand technology field.
Employers interested in learning more about how they can engage with the future workforce can connect with our Business Partnerships team or make a tax-deductible donation like these sponsors did.
---