---
COVID-19 Update: Most in-person events have been cancelled until further notice.
Check the event organizer's website for more information.
---
JA JobSpark Day at Christel House Academy South
May 21, 2019 at 8:00 am

-

2:30 pm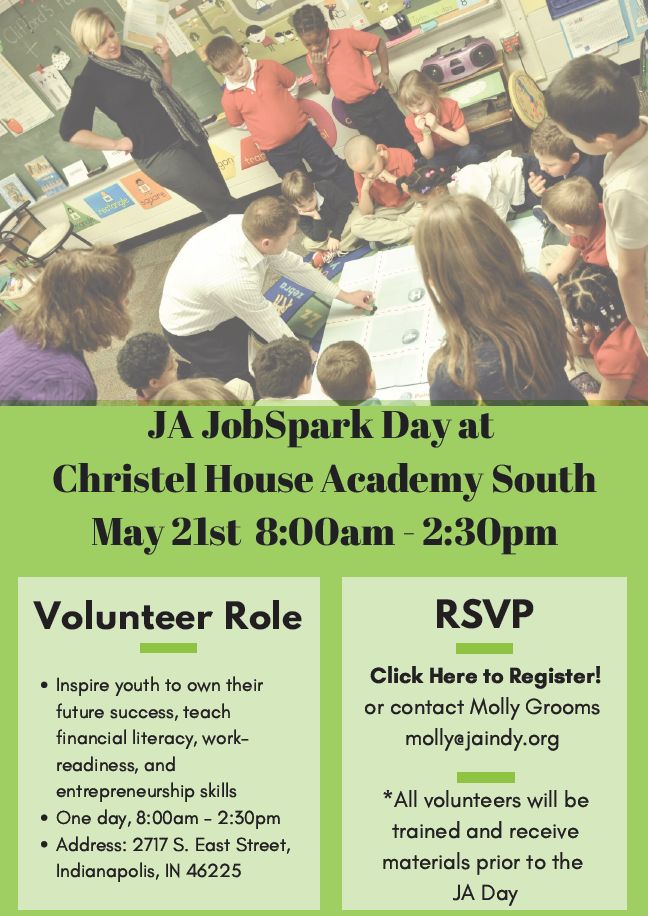 What is JA in a Day? LEARN MORE
JA Day is the ultimate JA experience (outside of JobSpark of course!) and provides a glimpse into traditional JA programming. It is a wonderful way to learn first-hand what JA elementary programs can do for the students who will ultimately attend JA JobSpark in a couple of years.
The elementary lessons are age-appropriate and focus on concepts such as community, jobs, taxes, etc. Volunteers are encouraged to bring their real-life experiences into the lessons and it is always an absolute blast. As a volunteer, you would be assigned to a classroom and get to spend the school day with that group of students and their teacher. JA provides training and materials. It is fun, easy to prepare for, and makes a difference! Feel free to partner up with a colleague in your cluster (just let them know you'd like to volunteer together)!
Sign up by Tuesday, May 7th. If you have any questions, contact Molly Grooms at molly@nulljaindy.org. Once you are registered, you will receive more information regarding trainings and materials.