---
COVID-19 Update: Most in-person events have been cancelled until further notice.
Check the event organizer's website for more information.
---
19th Annual Mayor's Celebration of Diversity Awards Luncheon
April 30 at 11:00 am

-

1:00 pm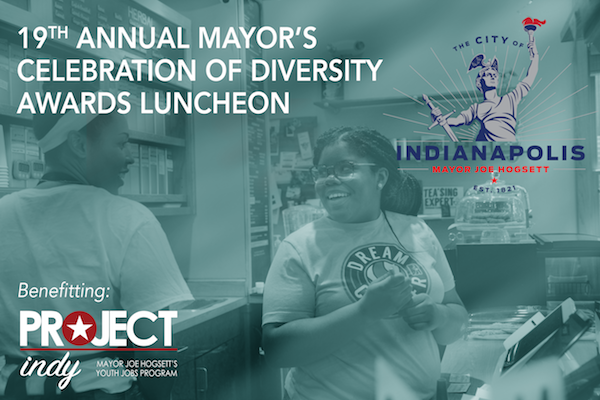 IN ACCORDANCE WITH RECOMMENDATIONS FROM THE CENTER FOR DISEASE CONTROL AND PREVENTION (CDC) ON GATHERINGS, THE MAYOR'S CELEBRATION OF DIVERSITY AWARDS LUNCHEON WILL BE POSTPONED TO A FUTURE DATE IN 2020. THANK YOU FOR YOUR UNDERSTANDING.

AT THIS TIME, NOMINATIONS AND SPONSORSHIP OPPORTUNITIES ARE STILL OPEN. IF YOU HAVE ALREADY BEEN IN CONTACT WITH EMPLOYINDY REGARDING AWARD NOMINATIONS OR EVENT SPONSORSHIPS, YOU WILL BE RECEIVING DETAILED COMMUNICATION FROM EMPLOYINDY CONCERNING NEXT STEPS.

PLEASE FOLLOW @EMPLOYINDY ON ALL SOCIAL PLATFORMS FOR EVENT UPDATES AND ANNOUNCEMENTS.

IF YOU HAVE QUESTIONS CONCERNING THE EVENT, PLEASE CONTACT ASHLEY DOWNEY AT ADOWNEY@

null

EMPLOYINDY.ORG.
We are excited to celebrate another year of diversity in Indianapolis! The 19th Annual Mayor's Celebration of Diversity Awards Luncheon will be recognizing employers throughout Indianapolis who have demonstrated diversity and inclusivity in their workplace and community.
AWARDS:
Sam H. Jones 'Best of the Best': This award is named in honor of the Indianapolis Urban League's first president, a tireless advocate for peace, justice, and racial understanding. An organization nominated for this award is recognized for exemplary performance in all aspects of diversity. In order to be considered for this award, employers will be expected to additionally fulfill the criteria of the Diversity in Leadership and Diversity in Workforce awards.
Diversity in Leadership: This award celebrates an organization who cultivates an atmosphere of growth, particularly when considering upper-level diversity as well as actively supporting a diverse organizational culture. This includes those who create and implement strategies that to provide opportunities for all employees to feel integrated and valued within their workplace.
Diversity in Workforce: This award celebrates an organization who in the past year successfully implemented best practices to support workforce diversity. These employers promote opportunities that engage and recognize diversity within their place of business.
Excellence in Youth Employment: An organization nominated for this award has shown a commitment to offering several youth and young adults in Indianapolis the opportunity for that first job and embraces a culture that promotes the personal growth of those individuals through mentoring and advancement.
NOMINATE AN ORGANIZATION | SPONSOR THE EVENT
The donations from the Mayor's Celebration of Diversity benefits Mayor Joe Hogsett's youth jobs program, Project Indy.