EmployIndy, Ascend Indiana, CareerWise Colorado, Zurich North America, and many more are changing the perception of apprenticeships – engaging innovative employers in high-demand industries to prepare young people for the workforce of the future.
Traditionally, apprenticeships are viewed as opportunities exclusively available to adults in the trade industries, such as welding and construction. In the 21st century, that is no longer true. These industries learned early on that this structure was critical to build a trained workforce – something that many employers in other fields wished for. To celebrate these opportunities and the expansion of apprenticeship into high-demand fields, such as IT, healthcare, and business, the United States Department of Labor hosts National Apprenticeship Week.
National Apprenticeship Week brings together business leaders, career seekers, educational institutions, and stakeholders to showcase their programs and apprentices within their community. The participating employers have prepared a highly-skilled workforce to meet their talent needs as they shape individuals to both invest in their industry and fit the mold of their company.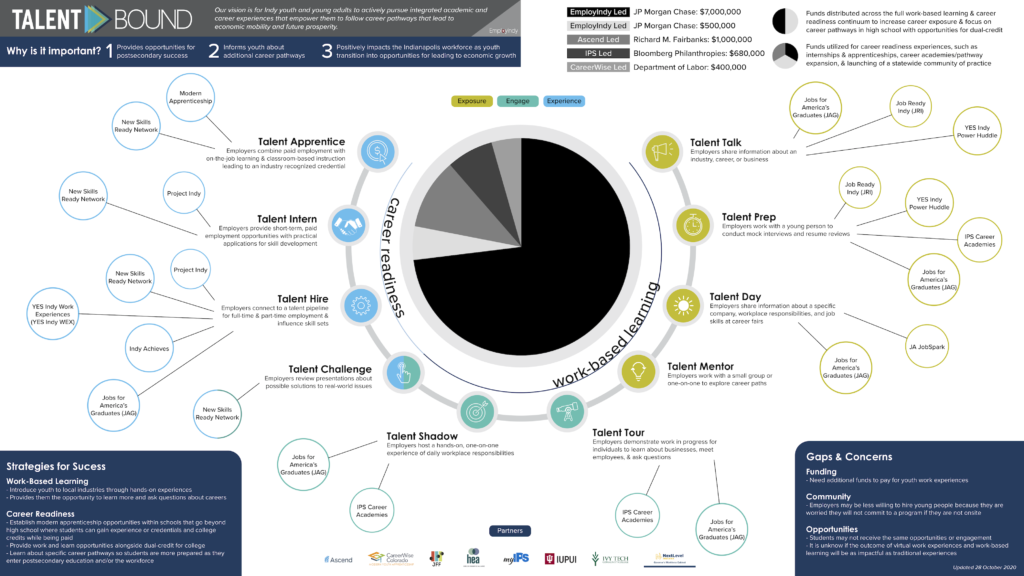 In 2018 and 2019, EmployIndy staff members attended a Best Practices summit in Denver, Colorado, and the CEMETs Institute in Switzerland to learn more about the modern youth apprenticeship model and see how it could be implemented in Indianapolis. This all started because EmployIndy was launching Talent Bound – a work-based learning initiative for high school students. While work-based learning is preparing students for career exploration and engagement, the next step was to create on-the-job opportunities that could ultimately translate into a career.
Recognizing that a traditional four-year education is not always the best option for all students, EmployIndy and Ascend Indiana announced an innovative Modern Apprenticeship program, utilizing the structure that was put in place by the trades industries and making it applicable to other high-growth, high-demand industries. By connecting employers to high school students, they are able to build their current and future talent pipeline while providing young adults with the unique opportunity to build their professional network, graduate high school, get paid a higher wage, and gain an industry-recognized credential and college credits. In partnership with CareerWise Colorado in Elkhart County and Ascend Indiana, EmployIndy is aiming to do at least 100 apprenticeships over the next four years in Indiana.
The Modern Apprenticeship Program creates a structure for employers to be part of the solution and removes barriers so all students can have equal accessibility to careers in high-demand fields, ultimately leading to economic mobility.
The launch of Modern Apprenticeship is just one local career readiness plan:
Ascend Indiana is leading a statewide Community of Practice with postsecondary and secondary institutions, government leaders, funders, and stakeholders

EmployIndy is leading the

New Skills Ready Network

to build out career readiness opportunities for all young people alongside Indianapolis Public Schools (IPS), Governors Workforce Cabinet, Ivy Tech Community College, IUPUI, Ascend Indiana and Indiana Commission for Higher Education
In July 2020, CareerWise Colorado, in partnership with EmployIndy, Ascend Indiana, Horizon Education Alliance, CityBridge Education, and HERE to HERE, was awarded a $5 million grant from the US Department of Labor to assist in expanding the number of registered youth apprenticeships. This happens by working directly with local employers to demystify youth apprenticeships while supporting them along the program lifecycle. These funds are specifically tailored towards creating shared supportive services to build a learning network based on local expertise and diverse economic environments.
Organizations nationwide are recognizing the value of apprenticeship for all industries and we are excited to support our young people and our community by building career readiness strategies and best practices for all residents.
---